Emerging Trends and Challenges to Look Out for in Industrial Internet of Things
In this era of Digital 4.0, Industrial IoT is expected to increase at an aggressive pace due to the high growth market and this will have an impact across various industries ranging from manufacturing, oil & gas, medical healthcare, energy and utilities, transport and logistics and many more.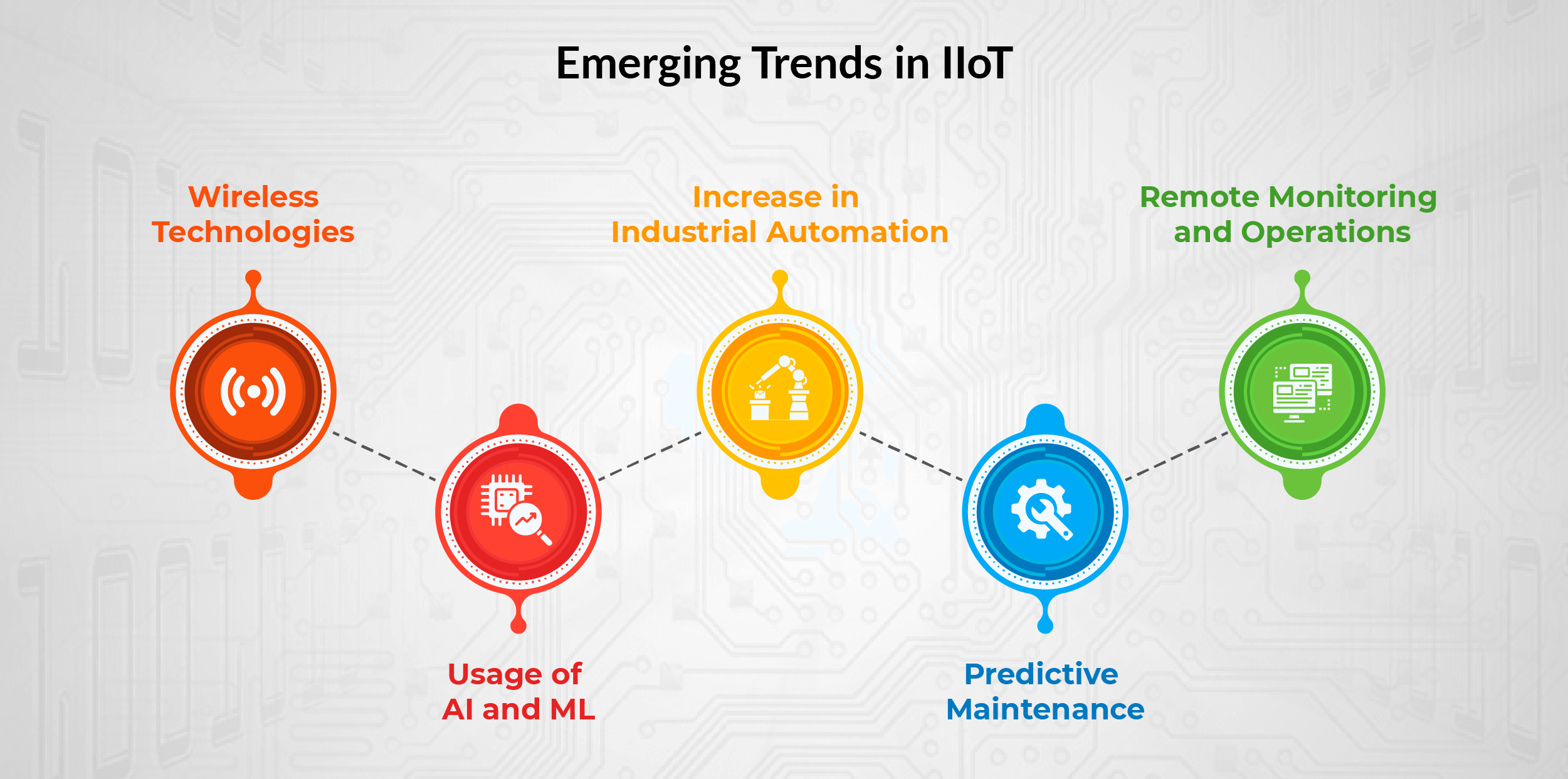 Emerging Trends in Industrial IoT:
The Emergence of Wireless Technologies – The Industrial Internet of Things focuses on the connection between machines, industrial equipment, and applications. The impact of 5G regarding the connectivity of IIoT has been enhanced to communicate data at a faster speed with greater reliability, and increased security to support specific critical operations.
The Increased Usage of AI and ML – In recent years, AI is transforming the IIoT space and enterprises are deriving the benefits of implementing IIoT. Collecting, cleaning, and processing of the right data is one of the most important aspects of AI. Added to this, enterprises are now moving to Edge AI, where the data is processed from the same premise, stored, processed, and managed at the endpoints of the Internet of Things (IoT). This helps to make informed decisions for the Management at the right time. AI will be helped by increased use of ML (Machine learning) in which data from a respective process or device is sent to an AI algorithm.   
Increase in Industrial Automation – Automation in industries not only helps in making tasks more productive and time saving, but also helps in decreasing human intervention as much as possible. When there is less human intervention, errors can be prevented. Furthermore, industries are focusing to invest more in industrial automation to reduce the number of operators due to the Covid-19 pandemic and social distancing.
Predictive Maintenance – Predictive Maintenance in the realm of IIoT helps to prevent asset failure by analyzing data and also predictive issues prior to their occurrence. It helps to achieve real-time alerts, analyze the nature of assets and enhance uptime and improve overall productivity. Earlier, manufacturers used to use scheduled maintenance to prevent downtime. 
Remote Monitoring and Operations – Remote monitoring enables you to control and monitor equipment from anywhere and at any time. This helps in sound decision-making based on real-time insights irrespective of personnel location.

Challenges in Present and Future Industrial Internet of Things:
Cybersecurity Risks – With the rise of IIoT, cybersecurity risks are also on the rise. Any type of cybersecurity attack is not only a threat to sensitive data but also the production. It is vital to run a risk assessment at regular intervals during the Industrial Internet of Things device's lifecycle.  
Data Analysis – The IIoT devices such as connected devices, actuators, sensors, and gateways generate huge amounts of data. Organizing and processing data at the right time is vital to make sound decisions. 
Connectivity – Connectivity among the equipment and devices is one of the vital aspects of success. Opting for the right communication technology is vital to ensure the right data is transferred between systems and equipment uninterruptedly.
Emerging Trends in Industrial IoT
Challenges to Look Out for in Industrial Internet of Things
"Challenges in Present and Future Industrial Internet of Things"