Top 6 Practical Applications of IIoT in Industrial Automation
What is Industrial IoT?
The Industrial Internet of Things (IIoT) is about interconnected controllers, sensors, and other devices networked together in an industrial setting. This type of connectivity allows for remote monitoring, access and more importantly allows for data acquisition with collection, exchange, and analysis of multiple data sources.
Industrial IoT has tremendous potential and benefits for reducing costs, improving productivity, and increasing efficiency. IIoT solutions are characterized by their fast implementation and low cost.
IoT in Industrial Automation
Industrial automation aims to increase productivity, provide optimum cost of operation, improve product quality, reduce routine checks and raise the level of safety. Industrial automation includes the usage of data-driven control systems such as PLC controllers or robots and industrial computers that help in reducing the need for humans operating machinery. IoT applications are increasing and play a vital role in industrial automation. IIoT creates systems that are affordable, effective, and flexible to customer needs.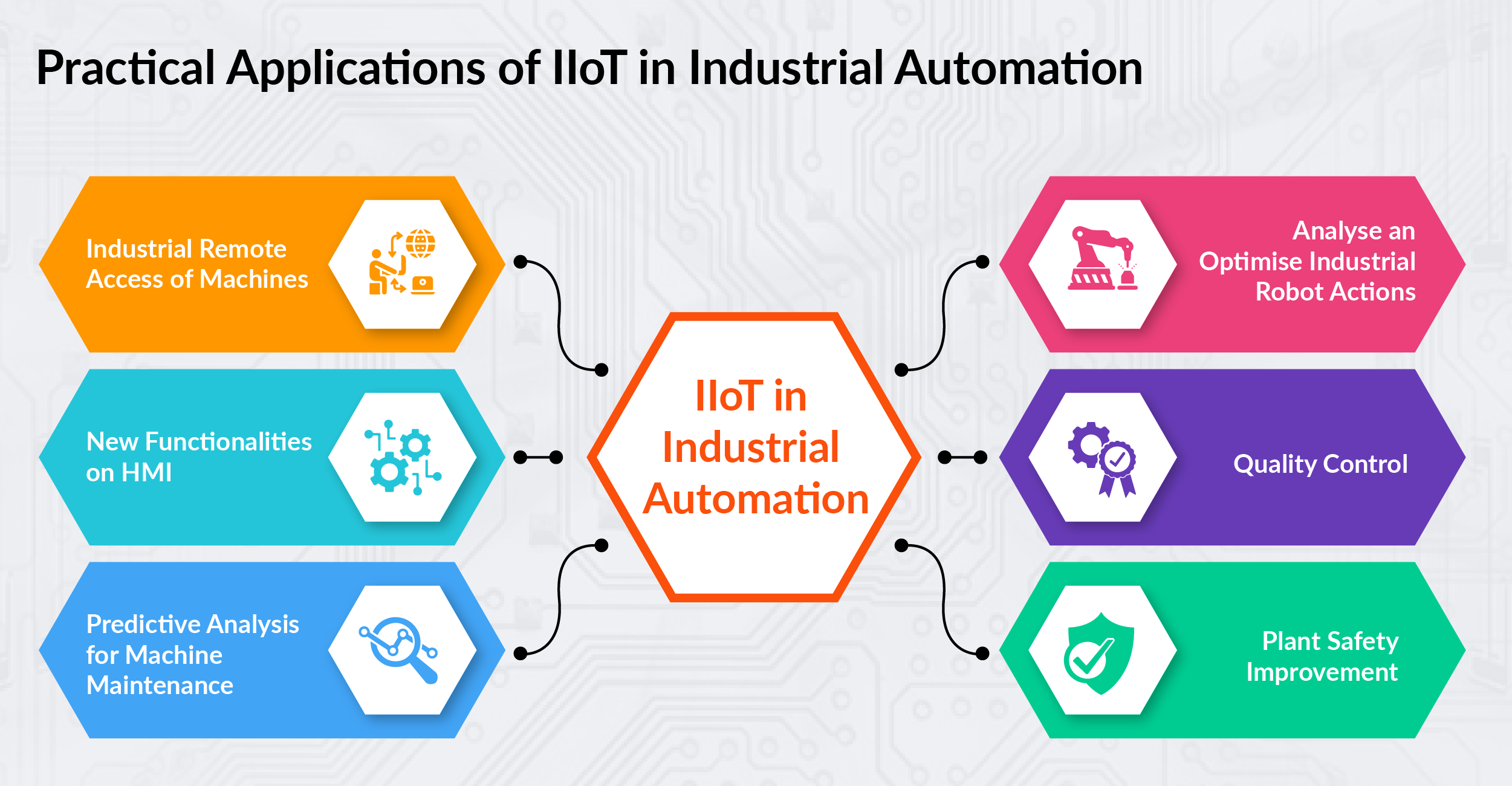 Practical Applications of IIoT in Industrial Automation:
Industrial Remote Access of Machines – In a traditional factory setup when one of the machines stops performing optimally, the engineers have to initially physically visit to diagnose the cause of the problem. In this process, valuable time and resources are lost ultimately leading to a cost impact due to downtime. With remote access to industrial machines, the engineers can access the machine from their current location and view log files on the PLC or robot and if necessary, reset the machine. It takes only a few minutes to find the problem, and this saves a lot of time.
New Functionalities on HMI – In this digital age, when our day-to-day use technology products get regular updates, even industrial equipment needs the same for enhanced performance, improved security and more features. Even after delivery of a machine to the customer, it will continue to get new software updates on expansion of the control panel by including new functions and new features. For this, the HMI (A Human-Machine Interface) software needs to be updated and tested to launch the new functionality. Through high secure network access over the internet, updates regarding the HMI software can be applied remotely. You can view and check the HMI functionality on the IIoT platform with the help of a web-based virtual network connection.
Predictive Analysis for Machine Maintenance – Industrial machines require occasional maintenance and when you know the degradation of any machinery after a certain number of production hours, it's easy to predict when maintenance needs to happen. In these scenarios, it is vital to implement predictive maintenance and generate specific and reliable information to make the right decisions for driving performance. You can collect, store and access the information by using clouds on each type of machinery. Furthermore, if any asset reaches its maintenance time, automatic notifications can be sent to the right person.
Analyse and Optimise Industrial Robot Actions – Industrial robots make repetitive work simple and easy. IIoT features with remote access help to get better insights into the respective log files. Video analysis improves the actions of certain types of robots, access to IP camera recordings and live streams can make things faster and easy. The setup of a VPN connection for full network access can be set up easily to any of the devices connected to the robot.
Quality Control – IIoT applications can monitor the quality of manufactured products at any stage, starting right from raw materials which are used in the process of transformation via smart tracking applications. This information is important to detect issues in the production chain and fix it swiftly. It not only helps to detect failures but also prevents risks in industries such as food or pharmaceuticals.
Plant Safety Improvement – IIoT machinery can generate real-time data regarding the live situation of the plant. By monitoring the equipment damages and air quality in the plant, it is possible to avoid any type of hazardous scenarios and contributes to the overall plant safety.
Avench is one of the leading embedded IoT systems and industrial automation companies in the United States. For any sales queries, contact us at +1 (775) 404-5757. You can also email us at sales@avench.com. We will be happy to assist you.
What is Industrial IoT?
IoT in Industrial Automation
Practical Applications of IIoT in Industrial Automation