Challenges while Implementing IIoT Systems
Industrial IoT has revolutionized the manufacturing industry to a large extent. By 2030 the growth of IIoT is predicted to be around US$14.2 trillion in the global economy. To capitalize on the data that machines produce in industrial settings, IIoT provides the opportunity to make the best use of smart machines and real-time data analysis. IIoT helps to improve monitoring, performance, productivity, and profitability in the industrial sector.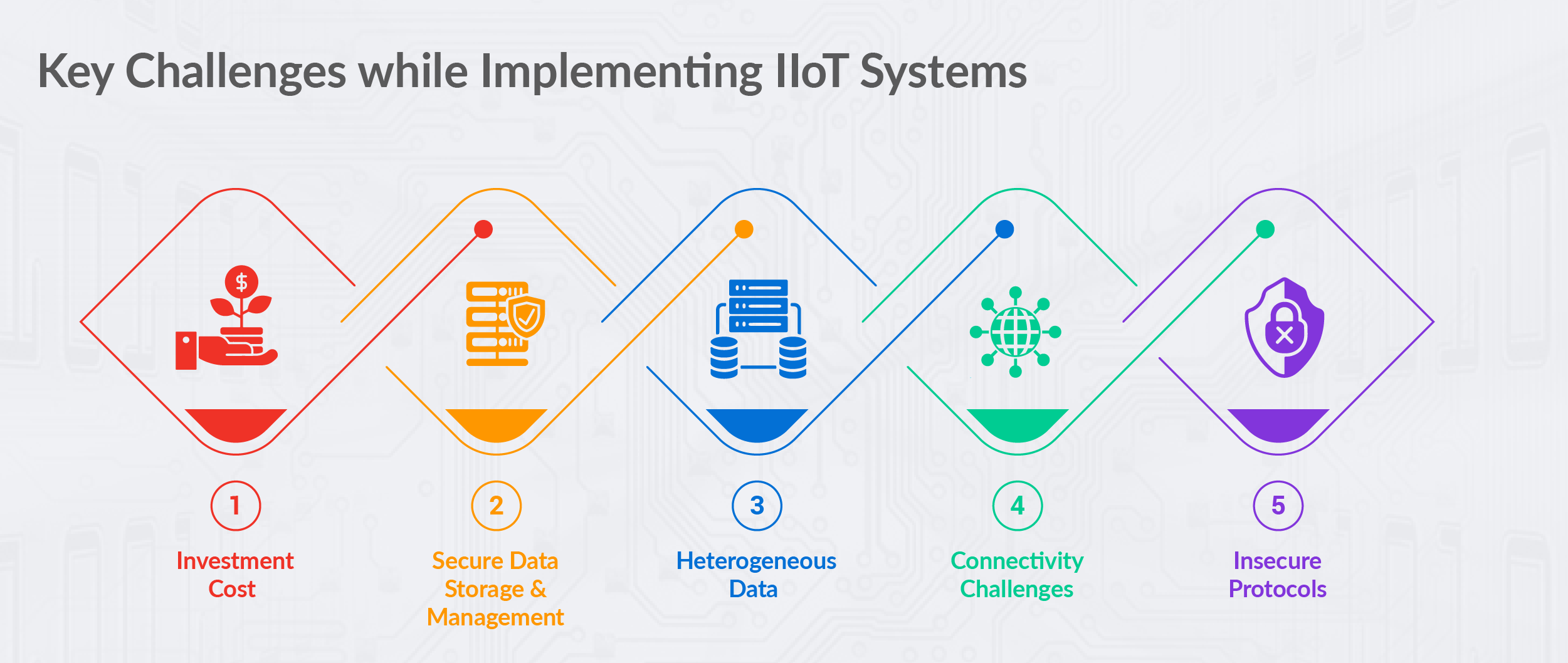 Some Key Challenges companies need to be aware of about Industrial IoT: 
Investment Cost : The biggest benefit IIoT offers is the decrease in operating cost by aiming for effective and improved asset management, productivity gains, predictive maintenance and business intelligence. This RoI of the cost benefit is realized by the business overtime but the initial investment to enable the shopfloor with IIoT can be high sometimes. As a solution, it is always advised that businesses should be extra cautious in implementing connected systems or IIoT for the first time.  Expert consultation from the likes of Avench, help with the cost-benefit analysis and a need based scalable plan for implementation.
Secure Data Storage & Management : IIoT devices generate huge volumes of data that must be processed at lightning speed to detect real-time patterns. This data needs to be stored and managed. As per the level of data sensitivity, companies must come up with a plan for secure streamlining of data management, monitoring, and data storage which will enable faster response time for any data security threats. Real-time insights are vital for not only realizing the cost savings but also to prevent downtime. Installing new devices, sensors and software may also introduce different types of data that an enterprise must be ready to handle.
Heterogeneous Data : IIoT is not just 1 device, but a group or set of multiple devices connected and operated through one single system. Every device will create data by the minute and will have its own independent data structure or format in which data is generated and stored. With multiple devices generating data in various formats, the challenge is to manage this non-relational data and bring out the best from the connected system such as customer records, ERP data, and IIoT devices to provide integrated insights in a single connected view.
Connectivity Challenges : One of the vital things that enterprises need to consider in undergoing IIoT transformation is a need for uninterrupted constant connectivity such as internet and electricity. As a company, one has to find a suitable vendor for meeting the connectivity requirements to avoid downtime. This makes sure that the IIoT devices are working 24*7*365 and are able to detect and avoid machinery breakdown or in worst cases, hazards such as gas leaks, etc.
Insecure Protocols : Along with a long list of benefits, technology also brings its own set of challenges. One such challenge is IIOT systems safety. This challenge can be easily managed by setting up right and secure system protocols. With technology the ease of access to resources has increased but this does not hold true for mission critical areas such as manufacturing plants. Unauthorized access may lead to shut down of plant or desyncing of various machineries or other complications. Thus secure protocols such as multi-factor authentication is recommended, to avoid any type of device from getting hacked. In this authentication process, a computer user provides two or more verifications to gain access to the system. Most of the industrial devices often communicate through properties such as PROFINET, Ethernet/Ip and Modbus, as they rarely employ authorization, authentication or encryption methodologies.
Opportunities that will emerge from Opting for IIoT:
Improved Data competence and Knowledge
Demand-driven manufacturing
Helps in choosing the right hardware
Improved Safety
Focus on both current and future needs
Avench is one of the leading embedded IIoT systems and embedded companies in the United States. For any sales queries, contact us at +1 (775) 404-5757. You can also email us at sales@avench.com – we will be happy to assist you.
Challenges while Implementing IIoT Systems
Some Key Challenges companies need to be aware of about Industrial IoT
Opportunities that will emerge from Opting for IIoT