Embedded Systems In Industrial Automation
Industrial automation can be defined as the process of delegation of repetitive human control functions to the equipment. Industrial automation is done using control systems such as PLC's, computers, and microcontrollers to process and control machinery to help reduce the need for repetitive human intervention. Embedded systems help to automate the process by instructing the machines regarding how to produce a product or a component. Industrial Automation is used in almost every type of manufacturing industry such as textile, food/beverage, mining, metal, manufacturing, and many others.
Embedded systems act as a programmable operating system in larger systems that performs tasks such as controlling line speeds, driving motors, adjusting temperature, and networking equipment. The main purpose of the industrial embedded systems for industrial automation is to monitor and control the processes which will enable to improve overall efficiency and maximum performance in challenging and often requiring precision environments.
Prior to the application of the embedded systems for industrial machines, there was a manual intervention by the operators which helped to control and monitor the machines. There were many issues such as time-consuming integration with the existing control and monitoring systems, network infrastructure incompatibility, and was not able to support a giant industrial setup requiring precision control to improve efficiency.
Many companies are moving towards industrial automation as it helps in achieving not only greater efficiency but also a much lower error rate, higher power efficiency, and preventive maintenance. The data that is gathered, processed, and analyzed by the embedded computers is used to create valuable insights. This insight helps the operators to measure performance and focus on improving the industrial processes.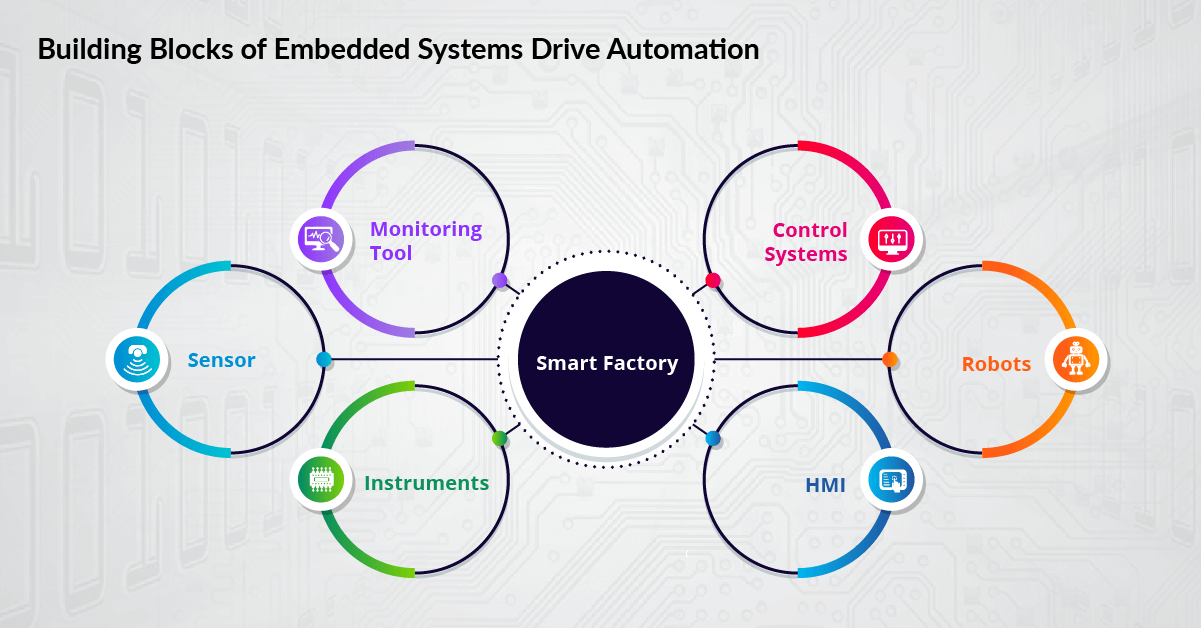 Embedded Systems have 2 Key Uses:
Machine Control – Embedded system engineering services are used in various industrial equipment to perform specific tasks such as controlling robotic machinery, controlling assembly line speeds, and controlling fluid flow rates. Their use has contributed immensely to industrial automation. Communicating at the input/output level via programmable logic controllers, these embedded systems integrate well with the existing machine controls which leverage automation software with proprietary numerical control and computer numerical control. Industrial OEMs (Original equipment manufacturers) and manufacturing plants can achieve a unified and centralized control architecture by reducing the maintenance costs and contributing to the overall product quality.
Machine Monitoring – Embedded Software development capabilities are used by industrial automation systems that help them to monitor systems conditions in real-time by the use of controlled monitoring of variables such as temperature, pressure, vibration, flow rate, power, and more. The data derived from the sensors and other different data sources is stored in a centralized database or in the cloud for real-time analytics which will help in providing the insights through reports, notifications, and dashboards. This helps in reducing maintenance costs and to cut any production losses.
Avench is one of the leading embedded companies in the United States, to know more information about embedded systems and embedded product design please subscribe to our blog, and for any sales queries, wait for no further contact us at +1 (775) 404-5757. You can also email us at sales@avench.com we would be happy to assist you.