The Importance of IoT Device Life-Cycle Management
The Internet of Things helps to increase the efficiency of the business and contributes to creating new innovative business models. With the real time data that is collected by devices, you will not only derive valuable insights but also fulfill their complete maintenance management remotely and automatically.
Surprisingly the connected devices are more than humans on this planet and this trend is expected to grow more and more. An ideal brownfield IoT device is expected to remain operational for many years without any need for replacement, which may or may not be designed for connectivity. This type of change needs a mechanism that enables you to deploy field devices that can be used remotely. One of the biggest concerns in the connected device network is the protection of device data.
IoT Device Lifecycle Management solutions/remote device management solutions are vital for IoT-based enterprises to meet the expectations of their end user with regard to service reliability. Managing devices remotely improves employee productivity as well as asset utilization and helps to reduce the services cost by improving customer satisfaction; reduces operational cost and enables product companies to scale at greater speeds.
Why do you need IoT Device Lifecycle Management?
Devices Health – IoT device lifecycle management platforms enable you to  track, secure,  manage and sustain all your devices. The device lifecycle management's dashboard can be accessed from any location allowing devices to be decommissioned, managed and provisioned in real time.
Improve Productivity – It helps in effective asset utilization that enables employees to focus on core tasks and this helps in improving productivity of the enterprise.
Reduce Downtime – Device management helps to monitor any bugs and errors and fix them in real time and this helps in improving service reliability and minimizing device downtime.
Stay Updated – Device lifecycle management helps you to remotely configure and upgrade devices by managing the increasing device uptime. It gives you flexibility to effectively manage on field devices from any location.
Focus on Customer Reliability – It helps you to reduce time in resolving tickets and provide outstanding customer service. Better customer service enables us to build trust and reliability.
Data Feedback – As devices generate huge tons of data, device lifecycle management can provide individual performance of each device and analysis.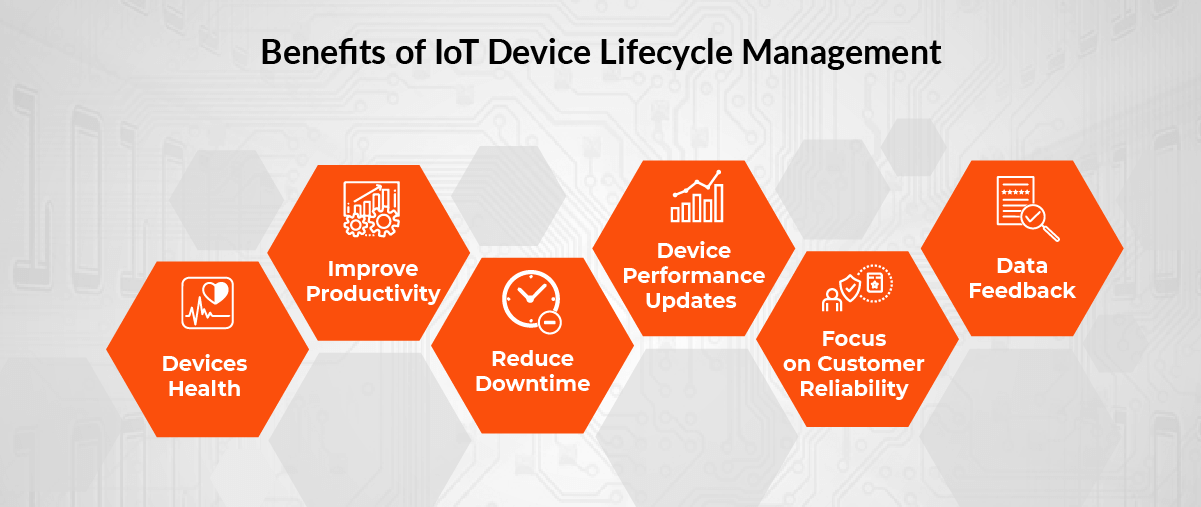 Let us now understand the Key Benefits of IoT Device Lifecycle Management
Multiple Device Support – IoT device management helps interfacing of multiple devices that enables a remote-controlled network.
Cost Saving – Reduction in support and operation costs through remote device maintenance and software upgrades.
Device and Communication Security – IoT device management includes layered security system which is hardware, software and data security.
Multiple Connection Protocol- It provides a wide range of connection interoperability and protocols standards such as BLE, Z-wave, ZigBee, Bluetooth etc for sensor connectivity.
Avench is one of the leading embedded companies in the United States. To know more information about embedded product design and embedded systems please subscribe to our blog. For any sales queries, contact us at +1 (775) 404-5757. You can also email us at sales@avench.com – we would be happy to assist you