Embedded Product Design: An Overview
In today's fast-paced technological landscape, developing an embedded product can be a complex and challenging endeavor. Whether you're working on IoT devices, industrial equipment, or automotive systems, the success of your project depends significantly on the design partner you choose. This choice is critical because it can affect factors like functionality, performance, size, power consumption, and much more. One of the key criteria to consider when selecting an embedded design partner is their credibility. In this blog, we'll explore the importance of credibility when choosing a design partner for your embedded product and why Avench Systems should be your top choice.
Credibility as a Design Partner: Its Significance
1. Proven Expertise
When you're on the lookout for an embedded design partner, one of the first things to consider is their proven expertise. Years of experience in designing successful embedded systems, along with domain-specific knowledge (e.g., IoT, industrial, automotive), can be invaluable. A strong portfolio of past projects indicates technical competence and demonstrates the partner's ability to handle the specific challenges your project may entail.
2. Quality and Process Focus
Quality and reliability are crucial in embedded system design. You want a collaboration partner that follows robust design, validation, and testing processes. Look for the ones who hold quality certifications such as ISO 9001, which reflect their commitment to delivering high-quality solutions. These certifications ensure that your product will meet or exceed industry standards.
3. Cross-Disciplinary Skills
Embedded systems design is a multidisciplinary field that encompasses hardware, software, mechanical aspects, testing, and more. To create a seamless and efficient product, it's essential to seek partners with cross-disciplinary teams working under one roof. This collaborative approach ensures that all aspects of your project are seamlessly integrated, leading to a more efficient development process.
4. Keeping up with Technology
Technology evolves rapidly, and your design partner should keep up with the latest advancements. Ensure that your partner has access to modern Electronic Design Automation (EDA) tools, prototyping equipment, test setups, and a team of well-trained engineers. Staying up-to-date with the latest tools and technologies is crucial to delivering an optimal design that meets current market demands.
5. Trusted Customers
The trustworthiness of your design partner can be measured by their customer relationships. Look for established players in the industry who have prominent logos as long-term customers. This demonstrates the partner's technical capabilities and the quality of their service. When you see well-known companies relying on your potential design partner, it's a strong indicator of their credibility.
6. IP Security
Protecting your proprietary design data is crucial. Your chosen design partner should have robust IP protection and confidentiality practices in place to secure your sensitive information. This ensures that your innovative ideas and intellectual property remain safeguarded throughout the development process.
7. Global Delivery
Cost efficiency is an essential consideration in any project. Look for partners with development centers in emerging markets, as long as this doesn't compromise on quality. A global presence can offer cost advantages without sacrificing the quality and reliability of the final product.
8. Financial Stability
Lastly, financial stability is a key factor to consider. Seek partners with a solid financial track record and a history of growth. This reduces the risk of your partner discontinuing their service, leaving your project in limbo. A financially stable partner is more likely to be a reliable, long-term collaborator.
Why Choose Avench Systems?
Now that we understand the importance of credibility, let's focus on why Avench Systems is the ideal design partner for your embedded product: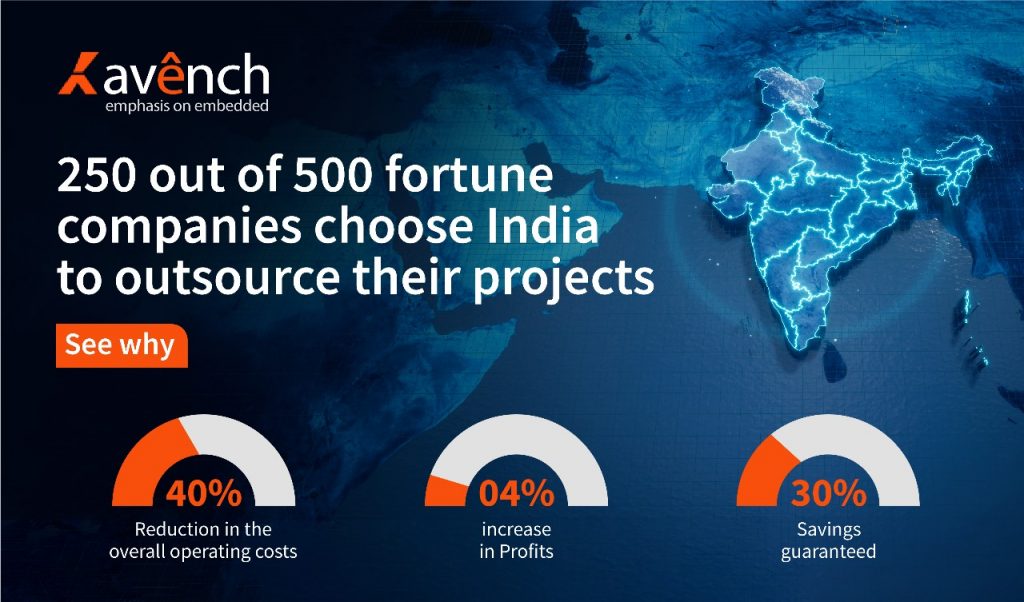 250 out of Fortune 500 companies choose India to outsource their projects. See why
40% reduction in the overall operating costs
4% increase in Profits
30% savings guaranteed
Source: https://stamod.com/four-ways-outsourcing-saves-your-business-money/
Expertise: Avench Systems boasts a team of highly skilled engineers and designers who have years of experience in embedded product design. Our experts are well-versed in the latest technologies and industry trends, ensuring your product is at the cutting edge of innovation.
Quality Assurance: Quality is our utmost priority. Avench adheres to stringent quality control processes to guarantee that your embedded product not only meets industry standards but also excels in performance and reliability.
Proven track record: Our portfolio speaks for itself. We have a history of successful collaborations with clients from various industries. Their satisfaction and the outcomes of our projects are testaments to our credibility as a design partner.
Industry Recognition: We have garnered recognition and awards for our innovative embedded product designs. We are known for pushing the boundaries of what's possible, ensuring that your project will stand out in the market.
Client Satisfaction: Our long list of satisfied clients is a testament to our commitment to exceeding expectations. We prioritize clear communication, meeting deadlines, and delivering results that align with your vision.
Conclusion
Choosing the right design partner for your embedded product is a critical decision that can significantly impact your project's success. Credibility matters because it reflects the partner's ability to understand your requirements, deliver innovative solutions, and take your product successfully to market. By considering factors like expertise, quality, cross-disciplinary skills, up-to-date capabilities, customer trust, IP security, global delivery, and financial stability, you can make an informed choice that sets your project on the path to success. So, when embarking on your embedded product design journey, be sure to prioritize credibility in your selection process.
If you're looking for an expert embedded product design partner you can rely on, look no further than Avench Systems. Contact Us today to start your journey toward an exceptional embedded product. Your success is our priority.