Embedded Design Services Industry:  IP Ownership Challenges
So the term IP stands for intellectual property, which is an umbrella term for legal rights that provide the designers with ownership and authority over their works. IP in the context of embedded design services considers trade secrets, patents, trademarks, and copyrights.
IP Ownership Challenges – An Introduction
Are you a company looking to outsource embedded design services? You must be having enormous doubts and fears corresponding to it. As a company, you must have uncertainties and unanswered questions pertaining to the quality of the service, reliability, communication issues, and so on. And apart from all these, you might be having the biggest fear about IP ownership, and you want to revisit your thoughts on this. Your anxiety is totally viable, and so we are here with a blog about mitigating IP ownership and offering you some insights and measures of risks.
We  have listed a few reasons why you can face IP ownership challenges
● Lack of Awareness: You may not be fully aware of the specific intellectual property (IP) laws and regulations in India. It's common for businesses to encounter issues related to IP in their outsourcing ventures when they are not well-informed about the legal landscape in the country where they outsource. This lack of awareness can result in
disputes or complications during the outsourcing process.
● Differing Legal Frameworks: The United States and India indeed have distinct legal systems and IP laws. According to the U.S. Chamber of Commerce's Global Intellectual Property Center (GIPC), the legal and regulatory environment for IP protection can vary significantly from one country to another. In their annual International IP Index, they assess and rank countries based on their IP protection and enforcement. The differences in these rankings can reflect the varying legal frameworks across countries.
● Ambiguity in Contracts: The issue of poorly drafted contracts is a common problem in the business world. While there may not be specific statistics on how often this happens in outsourcing contracts between the US and India, it's a widely recognized problem. The International Association for Contract and Commercial Management (IACCM) reports that up to 9% of a company's bottom line can be lost due to poorly managed contracts, which may include issues related to IP ownership and protection.
Managing IP Ownership in Collaborative Design Projects
Design services often involve collaborations between developers, clients, and other stakeholders. While collaborations can lead to innovative and successful designs, they can also present challenges when it comes to IP ownership. To understand this point, you must know about the Indian Copyright Act of 1957, the Designs Act of 2000, and the Indian Patents Act of 1970. Each of which plays its own significant role in IP protection. This section will show some of the best approaches to managing IP ownership in collaborative design projects.
● Consult legal experts: If you have any questions about Indian intellectual property laws, think about scheduling a consultation with an expert. They may provide you with specialized counsel, assist with contract drafting, and offer you pointers on IP protection tactics.
● Stay Updated: Stay up to date on changes and advancements pertaining to Indian intellectual property legislation. Since IP laws might change over time, it's important to stay informed on the most recent requirements.
● Case Law: Keep an eye out for case law interpretations, since they can offer important insights into the practical application of intellectual property laws. Contractual decisions and agreements may be impacted by previous court decisions.
● Local Expertise: If at all feasible, collaborate with Indian service providers or legal professionals who are well-versed in the regional legal system and are capable of assisting you with intellectual property matters.
● International Treaties: Comprehend India's responsibilities with respect to international agreements and treaties pertaining to intellectual property, including the TRIPS Agreement (Trade-Related Aspects of Intellectual Property Rights). These agreements may have an effect on India's IP laws.
● Enforcement: To safeguard your intellectual property, become familiar with the enforcement channels that are accessible in India. In the instance of intellectual property violation, this might entail filing a lawsuit.
Regular communication and ongoing collaboration throughout the design process are key to avoiding disputes and ensuring a smooth journey toward successful IP ownership. By fostering a transparent and open dialogue, all parties can contribute their expertise and insights, leading to a more comprehensive and well-rounded design.
Avench's commitment to IP ownership
In the dynamic landscape of design services in India, the intricacies of intellectual property ownership, of course, demand careful consideration. But if you just follow emerging trends such as digital protection and global awareness, you can be free from anxiety.
● Avench prioritizes clear legal frameworks, well-drafted contracts, and successful collaboration strategies when it comes to protecting intellectual property rights.
● As embedded design service providers, we always proactively address IP ownership issues, maintain a strict and clear set of policies, and manifest invaluable support in order to maintain profitable and safe client relationships in this quickly evolving industry.
● Our support system, which is a part of our product design, includes knowledge transfer, IP transfer, maintenance support, and support for mass production.
● Our four unique engagement models (Turnkey model, full-time equivalent model, Off- shore development model, and time and material model) adhere to our IP ownership principles and have never let any customer contravene so far.
In a nutshell,
When you plan to outsource your embedded project services to India, it is the first place to understand the legal implications and step further. At Avench, we help you understand and deal with the legal frameworks, and you can collaborate seamlessly with us. We offer all the dependable and trustworthy services you need if you are considering outsourcing any kind of work to India. As discussed already, we have all the necessary provisions included as part of
our delivery service system. Now you can outsource your projects without any fear and hustle to us.
Avench's checklist to avoid IP ownership challenges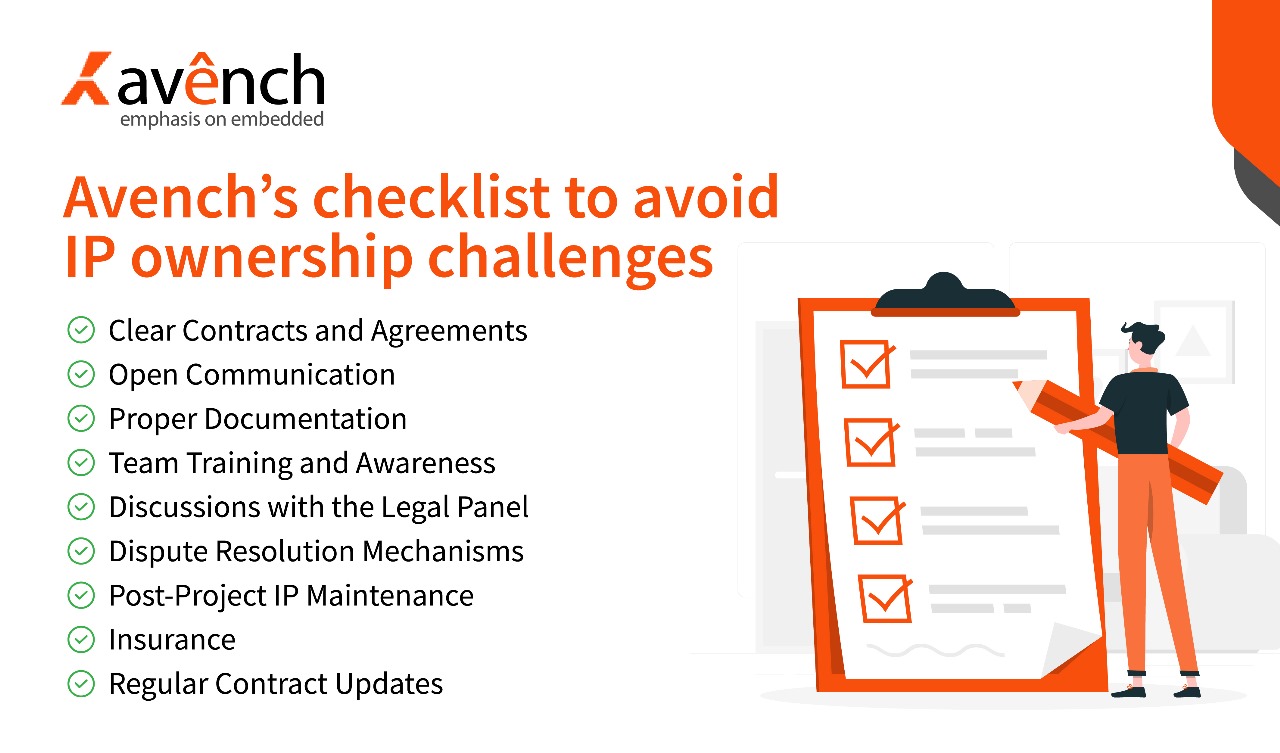 Avench is one of the leading embedded companies in bangalore, to know more information  for any sales queries, wait for no further contact us at +1 (775) 404-5757. You can also email us at sales@avench.com, or fill the query form in a website.